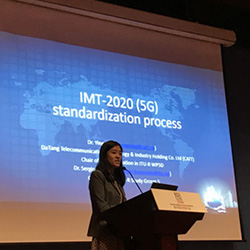 Welcome to the EDI CON Speaker Center – We are honored that you will be speaking at our event. The Conference will be held April 26-27, 2022 at the China National Convention Center in Beijing, China.
See the Hotel and Travel page for directions, hotel options and visa invitation information, if needed.
If you are an accepted speaker, you need to:
Book Your Room
Create your presentation. Submit it in PDF format through the portal by March 30, 2022.
Create your optional paper (no required template). Submit it in PDF format through the portal.
Register for the event (free speaker code and instructions sent by email, contact Sonia Thai if you need the code.)
Check in and pick up your badge at least 2 hours before your talk (or the day before)
Bring your slides on a portable USB drive to the conference (laptop and microphone provided)
Presentation Tips
Speak slowly, clearly and loud enough for everyone to hear
Show enthusiasm and don't speak in a monotone voice
Talk to the audience and not your slides (do not turn you back)
Practice and rehearse your presentation – don't read from your slides
Keep slides clean and free of too much text
Present one idea per slide
Only use colors that can be easily viewed
Don't present a product pitch
Audio Visual
Each of the conference session rooms will be equipped with a computer, projection screen and microphone. The PDF files you submit will be loaded on each computer but you must also bring your PowerPoint file on a flash drive.
Registration
As a speaker, you receive a free conference pass. Complete the quick registration process online using a special pass code that you have received via email. New and replacement speaker codes will be issued upon request, please contact Sonia Thai. Speakers are requested to check in on-site at the speaker registration area (located by main entrance) at least 2 hours prior to their scheduled time slot. Early morning speakers should plan to register the day before if possible.